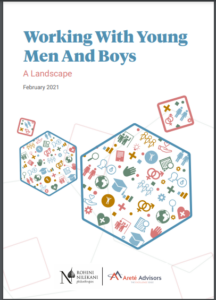 This landscape study provides a high level view of the efforts being undertaken to include boys and men in gender based work. It includes a snapshot of Rohini Nilekani Philanthropies own work in this space. 
In order to realize a gender equal society, it might not be enough to empower or work only with women. Increasingly, it seems imperative to include boys and men in this vision too – place on them the equal expectation of living out gender positive values.
At the same time, working with Young Men and Boys (YMB) has revealed the unique needs of, and risk factors for boys and men, and this framing has allowed the unveiling of nuances around how boys and men struggle to meet their fully realized selves.  It recognizes that the framework of patriarchy restricts men too.
The report is a call to action as well as a bid for further inquiry.